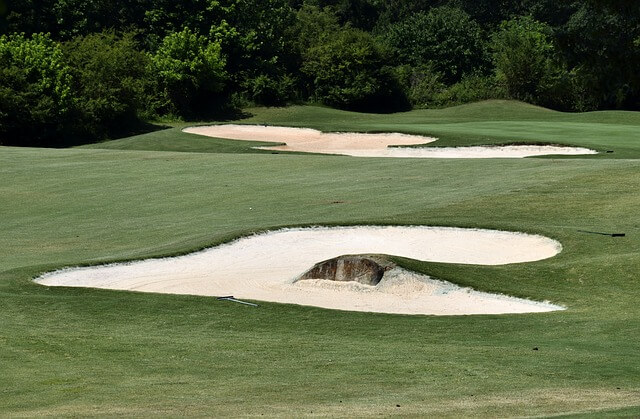 There's a strategy for being patient and waiting for something difficult to pass, and then there's falling down after your golf ball lands in a sand trap. Which one do you mean?
The expression you're looking for is to "hunker down." To "bunker down" is not actually a thing.
I'll admit that I'm taking some liberties with my second definition. To "bunker down" isn't a real idiom, so I'm trying to find the best fit.
As a verb, "bunker" means:
To hit a ball into an obstacle like a sand trap on the golf course
To equip or fuel a vessel
As a noun, "bunker" means:
That golf course obstacle
A fortification, usually built under the ground
A large bin, chest or box
The confusion with the idea of endurance probably comes from my second definition of "bunker," but even if you are in a bunker, you still want to "hunker" down while you're there. If you're curious about Dr. Anthony Fauci's words on the subject, he did indeed say "hunker down" in March of 2020.
Of course, if you're prone to bunker on the golf course, I suppose hiding there until the embarrassment passes is always another option, but I wouldn't recommend it.
Happy writing, folks!
---
Join 1,000+ subscribers and sign up for my writing and editing email newsletter for more tips like this.